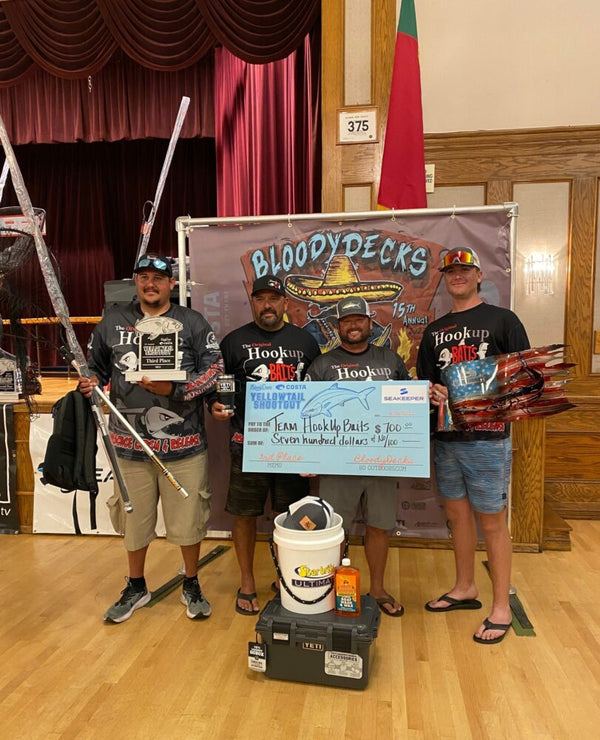 Bloodydeck 2022 Yellowtail Shoot Out-Hookup Baits takes 3rd place!
Bloodydeck 2022 Yellowtail Shoot Out-Hookup Baits Team takes 3rd place!
Team 46 – TEAM HOOKUP BAITS with a bag weight of 57.9 pounds and collected $700 dollars and the following prizes: 2 pair of Costa sunglasses, $100 AFTCO GC, American Tackle Company 3rd place Rod, Costa Backpack, YETI loadout GoBox, ½ scoop of bait from Everingham bros, $25 GC for Squidco, Surface sunscreen, YETI Tumblers, Starbrite cleaning kit, Frabill Net, $200 GC to Dana Landing, One Cool Tuna Jigs, and a 1 year subscription to FishDope.
This was the first year for the Hookup Baits team of (Ronnie Lee, Chad Gierlich, Al Vazquez and (Little Paul) Paul Vazquez) participated in this great tournament. What a well organized tournament, amazing awards and prizes as well as a delicious lunch to celebrate the tournament. Hookup Baits team will be back next year to participate and we highly recommend everyone in the fishing community to join in 2023!
See our Hookup Baits Podcast releasing week of August 8th where Jojo interviews Ronnie Lee and Chad Gierlich on the days events in catching their YT as well as talking about the tournament. A podcast you don't want to miss.