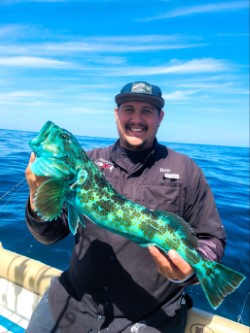 Beautiful Lingcod caught on Hookup Baits!
Shop Manager, Ronnie, caught this beautiful Lingcod on the Hookup Baits. 
No one knows precisely what causes this variation, but biologists believe the strange green or blue hues indicate that
the lingcod have consumed a diet rich in chlorophyll, eating more plant matter—green algae through small crustaceans—than the rest
.
Lingcod is very good eating. It's very comparable to halibut and cod - almost subtly balanced between the two. It's mild flavor lends itself well to a variety of recipes.